This Sunday is a celebration – of new hockey players and new leaders practicing personal growth and discovering their team's uniqueness, and of old friends and returning alumni reuniting in joyful moments on metal blades where we find balance, turn ice into snow, turn ourselves to see, catch, release a rubber biscuit across painted lines.
Returning folk – we know that this hockey is a special sport with care-filled rules and never-ending physical challenge. We show up to the MGHA as care-filled humans with emotional abilities, willing to step into the challenge of serving ourselves and each other.
New folk – you are learning MGHA ways. You are of equal importance in designing mood and rituals on and off the ice. Today, we celebrate you officially in competition and growth with us.
This Sunday, we welcome all – skaters, volunteers, friends, family – to join us in person at the arena.
~~~
Skaters should read everything below to understand what you need to do and know for MGHA game days. As always, please connect with a leader (captain, coach, mentor, board member) to get answers and clarifications.
1. Schedule
This Schedule Page will always have the latest information, updated with website magic.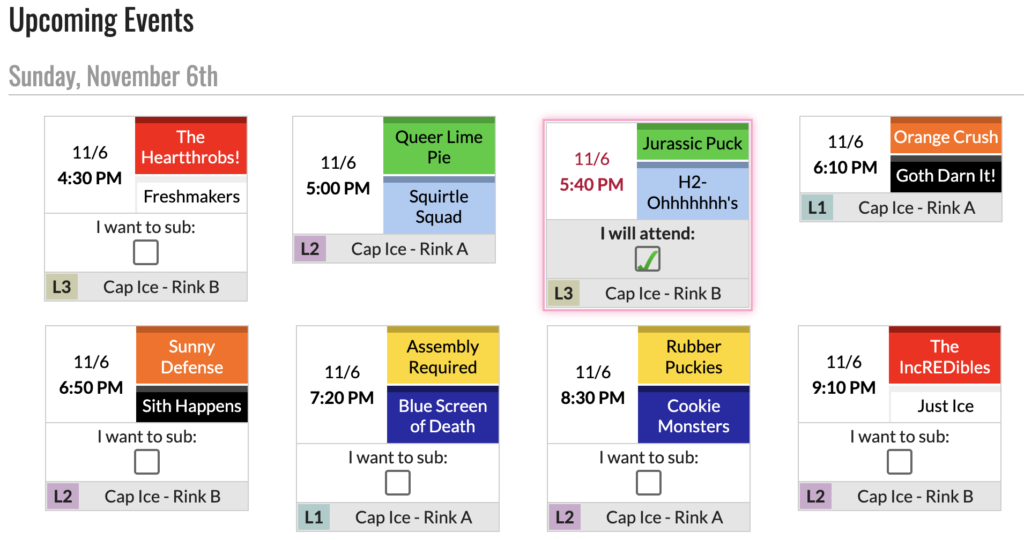 How to sub:
1. Check the "I want to sub:" box on the Schedule page to sign up to sub *BEFORE* 11AM on Sundays for your name to be included in the automatic email sent to captains with sub recommendations.
2. Both game captains review and select subs to ensure game balance and equitable subbing.
3. Players are contacted by captains on Sunday between 12PM and game time to confirm sub.
4. Players check in with the scorebox to add their name, number to capture accurate stats.
Read more about Subbing on the website.
From the Schedule page, you can click the game date and time ("11/6 6:10 PM") from this page to go to any unique Game Page.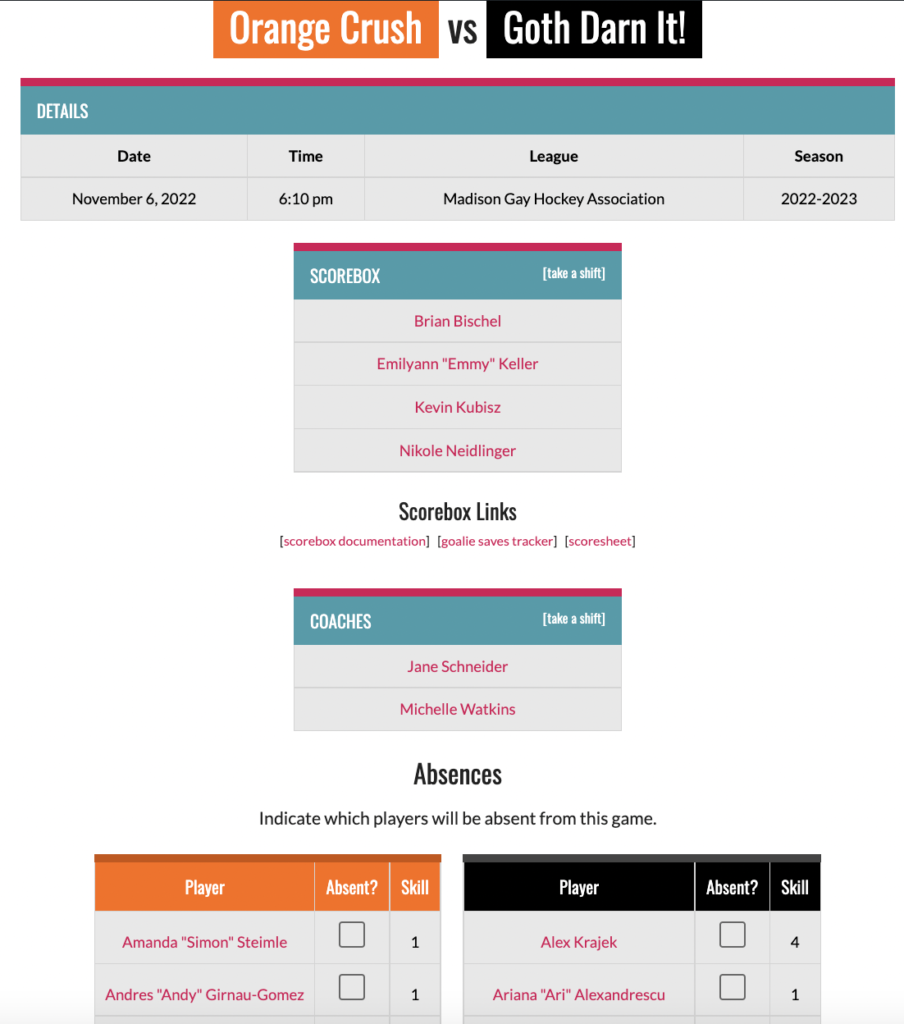 Game Pages (below: orange-black-11-6-22) show rosters, absences, scorebox shifts, and potential subs. When you sign up to sub, you will see your name appear on the bottom of the page.
2. Locker Room Reminders
We request captains and leaders state these in person in the locker room before each first game – please and thanks!
Review our Concussion discussion page
The MGHA is an adult only (18+) league, and for this reason, children are never allowed or permitted into the locker room as it is a space where adults may be changing. We ask that all fans, family, and honored guests meet with players in publicly sanctioned spaces (lobby, Eagle's nest, bleachers, etc).
For Positive Covid case reporting process

Were you likely contagious on Sunday? Did you test positive on or before Tuesday following games?

If no, no need to inform MGHA.
If yes, then

Did you spend 30+ minutes in common areas AND/OR were you within 6 ft of more than 3 people outside your household?

If yes to either, then notify a league leader or email covid@madisongayhockey.org and we will notify both teams for your game and a broader group depending on your specific situation.

We will keep individual cases anonymous to the best of our ability and inform exposures based on location, i.e. on the ice or in the locker room vs. common areas.

We have one medical kit available per rink, attached to puck bags. Please check and update your account page with medical contact info in case of emergency.
3. Game Day Duties
Every skater is assigned ~3 off-ice shifts to support game day processes – everyone has a role. If you aren't on the Board, HOPs, or a Coach, you will be assigned a General Scorebox shift.
General Scorebox

Any skater, 3 people per game, 336 total shifts
Responsible to keep time, stats, and music flowing for game play

HOps on Duty

Staffed by HOps and Board members
Located in the Scorebox during games
Support captains and coaches off the ice and across the benches
Answer questions from General Scorebox helpers
Available to leave the Scorebox to support around the arena, access to orange box for resources
4 shifts per night, 4 different people, 52 total shifts

Opening shift prints score sheets, opens box, drops off pucks, and supports 1st game on Rink B
Rink B Middle shift supports second and third rink B games
Rink A Middle shift supports first and second rink A games
Closing shift supports third and fourth games on rink A

Coaches

Supports L1 captains to coach players, answer questions, and inform game strategy from the bench
Coaches individual players as they request it
Help lead L1 clinics with support from captains input from team and skater needs
Supports L2 captains on the bench as they request
This week starts with Jane, Michelle, Bri and Gene.
4.  It's a great day for hockey! Wear your jerseys, hang out with new and old friends, opponents, congratulate and celebrate together. 
Extra Credit
Do You Know Nolan?
Nolan is our Cap Ice Rink Manager for Sunday nights. When you see him tending to the precious Zamboni and rinks this season – please thank him for his support. He's excitable and helpful – you can wave to him as he drives the Zamboni and hustles around on foot.
Nolan Wants You to Know:
1. Nets have a special place on the rink while the Zamboni does its job (see visual below). On game days, refs move nets to their Zamboni-time home. During all other ice times, when Nolan prepares to come onto the ice, you can help set the nets into their temporary Zamboni-time home.
2. Rink B is a lil Broken. Rink boards and doors are awaiting full repair and replacement parts. Please be patient and exercise caution around the boards, especially near the Rink B Zamboni door and skater-entry doors, as a number of players have broken sticks in the past 1.5 years. Cap Ice is actively working on this, and Nolan is merely a messenger of higher powers.