As a registered 501(c)(3) nonprofit organization, the Madison Gay Hockey Association is dependent on member fees, community sponsors, and donations from supporters like you.
Interested in supporting the MGHA's mission of providing a safe, welcoming, developmental hockey league for players of all sexualities, gender identities, and socioeconomic statuses? Make a donation to the MGHA today!
---
Monetary Donations
Want to give a monetary gift to the MGHA for our general or BIPOC scholarship fund, or for our gear assistance program?
Donate via PayPal:
Send direct donations via PayPal or using this QR Code: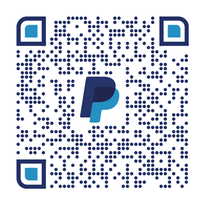 Donate via check:
Checks may be made out to MGHA with the memo "MGHA Donation" and be mailed to:
MGHA
PO Box 45092
Madison, WI 53744
---
Equipment Donations
New and Used Gear:
We have many new players who are just getting started without any gear. The league does our best to eliminate the monetary costs of equipment by collecting new and gently used hockey gear. We accept pads, helmets, skates, jerseys, socks, bags, and other hockey equipment that is in good shape.
Please contact hops@madisongayhockey.org for more information.
Play it Again Gear Fund:
Have other non-hockey sporting equipment to donate? You can sell it to the Madison Play it Again Sports (6674 Odana Rd) and have the funds added to the "MGHA Gear Fund" for our new players who need gear assistance! Just let the store associates know you're donating the trade-in cost to the MGHA.
This is not available at other Play it Again locations.
---
Other Fundraising Opportunities
Fidelity Charitable:
You can donate appreciated stock to the MGHA! Contact treasurer@madisongayhockey.org for more info. You do not need to be a Fidelity customer to use this option.
Facebook Fundraising:
Want to have your friends donate to the MGHA for your birthday or special event? Contact treasurer@madisongayhockey.org for more info.
---
Company Sponsorships
We have many options for local and national companies to sponsor the MGHA! Company sponsors are often featured on MGHA Season t-shirts, team jerseys, and this website. We also have opportunities for sponsoring the Annual MGHA Classic Tournament (typically held in April). We accept both monetary and in-kind sponsorships.
Visit our Become an MGHA Sponsor page or contact sponsorship@lists.madisongayhockey.org for more information.