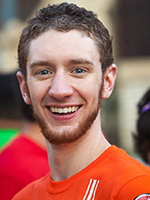 Current Team

2017 Maroon – Recreational Team Captain

Hometown

Missouri City, TX

Pronouns

he/his

Roles

Board Member MGHA Member Hockey Ops Recruiting Mentor
I am a graduate student at UW-Madison who enjoys goofing off by singing, roller-blading, and, thanks to the MGHA, playing hockey. I've learned much about hockey and culture in the last couple years and have regained some self-confidence thanks to MGHA. I'm excited to be giving back to the league this year as a player and board member.



Madison Gay Hockey Association