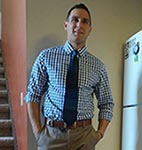 Current Team

Team Light Blue – L1 Team Captain

Hometown

Pittsburgh, PA

Pronouns

He/Him/His

Other Teams

Bo-Marli Hockey Group

Roles

Board Member MGHA Member Hockey Ops Mentor
Hi. My name is Tim. Pleasure to meet you! The paragraphs below give you some highlights about me. I hope you enjoy.

Hockey first... I started playing hockey in 1999/2000 with my high school's JV team. I played some adult league hockey and worked at a rink from 1999 until I moved to Johnstown in 2005. I played sporadically from then until I moved to Madison in 2011. I took a year or so off just because I didn't know where to play here and I traveled a lot for work. Now, I'm finally able to join a league because I don't travel anymore. I've been playing with Bo-Marli group in McFarland for about 4 years now. It's a great group of people with various skill levels. I am a fast skater, but I don't have all of the stickhandling, scoring, passing skills. I'll be happy to help give pointers when I can and will be happy to receive them as well.

More stuff... In addition to hockey, I enjoy TV, alternative music, and being outdoors. I play softball and volleyball, as well. Both of those are relatively new to me, but I have been enjoying them. I also used to host a music trivia / pop culture trivia / game show type-thing at a bar back home. Since moving to Madison, I now just host it for friends in my house every couple of months. My dream job is to be a game show host!

Work... As far as work goes, I work for a division of The Weather Company (an IBM business), creating the graphical look for television stations across the country. Locally, I've had a hand in the graphics on WKOW. I hear "they've got us covered." 🙂 I used to work at a TV station in Johnstown, PA where I did weekend weather and produced weather graphics. It was fun, but it's nice to have a 9-5 job without having to work holidays.

That's it for now. If you have any questions, find me on Twitter! I'm (at) TT_7.