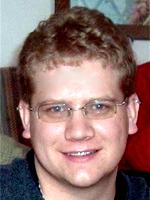 Current Team

Hometown

Eveleth

Pronouns

he/him/his

Other Teams

MN WILD!!!
Grewing up in the home of the United States Hockey Hall of Fame, hockey is the main sport. I chose not to play hockey because swimming was more important to me, but I have been an active follower and lover of college hockey, especially the WCHA (still a SCSU Fan). I may be in UW-Madison territory now and will cheer for the Badgers, but I will always be a bigger St. Cloud State University Huskie fan. Go STATE! And by the way, I know that St. Cloud is not a state.
When I heard that there was a gay hockey league in Madison, I was so excited and wanted to join as soon as possible. I have been playing for 2 plus years now and absolutely love it. I am so glad that I was given the opportunity to play hockey. It has broadened my horizons, got me out in the community, allowed me to meet an exceptional group of people and friends and to also participate in a team sport.
In my free time, I am a Freelance Lighting Designer working for UW-Opera, Madison Theatre Guild and Madison Savoyards.



Madison Gay Hockey Association