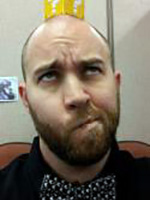 Hometown

Coon Rapids, MN

Pronouns

he, his, him

Other Teams

Team Cap

Roles

MGHA Member Social Squad Recruiting
Fall of 2023 will begin my 13th year with the MGHA and my 13th year playing hockey. I have learned so much! I made many friends and look forward to meeting more people!

I am originally from Minnesota... GO WILD!

I love shamrock shakes!



Madison Gay Hockey Association