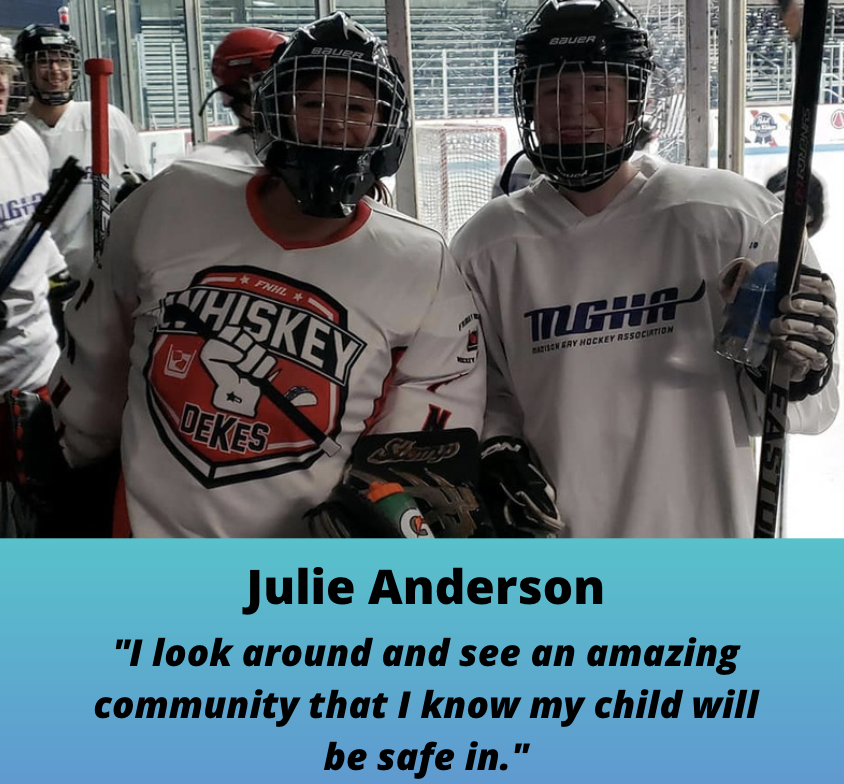 ---
Hockey has been my passion for as long as I can remember. My parents did not let me play growing up but that didn't stop me from spending as much time at ice rinks as possible. Watching my younger brother play, going to friends' games, working at a family friends' rink, attending college games on my own, and finally having my own kids to experience the hockey life with. I've been a hockey mom now for 11 years. A hockey board member. A Zamboni driver. Concession stand worker. Game scheduler. Tournament director. The hockey life list goes on and on.

A few years ago, after moving to this area, a hockey dad convinced me to play in a "Kids vs. Parents" game. They didn't have a goalie, my son is a goalie (not for this particular team), and would I play goal for the parent team? Sure, why not? As is often said, goalies are crazy! So, at the age of 43, I played goalie and I fell in love! From there, said hockey dad, who has become one of my best friends, convinced me to play in their Friday Night Beginners League, which I love. Then I was asked to play on a women's team, which I did not love; too much drama! I play as often as I can. I've played on teams of those I have never met. I've played where I travel and stay in VRBO's, like a sailboat. I play with friends that I look forward to seeing on the ice each week. I play with a group of guys that make me laugh while trying to beat me up. And I fulfilled a bucket list item by playing Pond Hockey in Eagle River. While wearing goalie skates!

Forward to the current hockey season. A friend, Keith, from another group asked me if I would be willing to play goalie on his team for Madison Gay Hockey Association (MGHA). I've heard of MGHA and I have heard they are a great organization. But, should I be on a team for gay hockey? I am not gay.

The funny thing is, without even knowing what was going on in my life, Keith extended the offer for me to play, we chatted about it, and I finally I said I could do some games but couldn't commit to all. I wasn't sure this was the right group for me, but I was willing to give it a try. What was going on in my life at the time? My oldest child, my first baby, "my Girl" as I've always called him had started the process of transitioning to a male. As a mother this was very difficult to accept. I couldn't understand why and I had a lot of unanswered questions. I was hurting, but mostly I was scared. My child has a chronic disease and I was scared of what hormones would do. I was also scared the decision my child had made would lead to a very difficult lifestyle for him. I wasn't familiar with the LGBTQ community and I didn't know how I was going to support my baby.

I showed up to my first game with the Avalanche Avengers knowing only 1 person. I had not spent much time in the gay community but I am very open to everyone being their own person. The first person I met was extremely friendly and offered me a hug (it's a funny story). Everyone I met after that were just as friendly and welcoming. They were all ready to have fun. They were all extremely supportive of each other and encouraged each other to play the MGHA way. I wasn't sure what to expect, I was nervous, this was a new experience for me, and I can say I went out to play my first game with MGHA and I sucked!

Since that first night, I have come to love my Sunday nights with all the people involved with MGHA. I started to refer to MGHA as "Happy Hockey" to my friends. Everyone was so happy and we have so much fun playing. Cheering each other on, encouraging new skaters to try something different, helping each other up, and laughing! Oh, the laughing! But that was only the on-ice fun stuff. Happy Hockey became the place I learned more about my child. The place I have met people from all walks of life. The place I look around and see an amazing community that I know my child will be safe in. And a place that I so badly wanted to get my child involved in! With a little pushing, a lot of support from my team Captains, and the Board, my son is now an Avalanche Avenger along with me. The joy I get from watching him skate and make friends, and be 100% himself, is priceless.

What is MGHA to me? Happy Hockey!