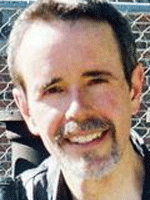 Pronouns

He/him/his

Other Teams

OBHL D League, Sun Prairie; Bo-Marli Hockey

Role
Stepping into hockey with the MGHA was a transformative experience 12 years ago. Playing today remains an amazing experience. I am grateful for the people and communities that have and remain so supportive of me in this sport. I remain fascinated about how thought in hockey is manifested into form on the ice. It is magical.

I wrote the following essay 12 years ago about my experience of MGHA hockey, and it still rings true for me today.

Being a player in the MGHA is truly one of the things I am most proud of in my life; one of the most important things in my life; and one of the most unexpected developments in my life. It has provided a true home for me in Madison. When I began, I could not have imagined that I would be out playing hockey.

When I skated out on the ice for my first hockey game, it was the first competitive team game of any type I had played in 16 years. The previous team game was monastic volley ball, at a yoga ashram, veggie prep vs. kitchen crew, wearing our aprons. In my pre-college years, I watched some high level live hockey and never envisioned myself being out on the ice. Until I joined the MGHA, I had been on the ice only a couple times since my sophomore year at Cornell, and i had never really learned to skate. I had been so convinced as a young child that I lacked athletic ability that I had never learned how to effectively catch a ball, any ball, never mind a puck with a stick. Needless to say I avoided all team sports after high school gym class.

Only as an adult in middle life did I begin to cast off my old limiting beliefs. I discovered confidence in my swimming ability. I grew comfortable swimming in the Wisconsin River, in an area where there the current is swift and deep channels are hidden beneath the silt-laden water. For about the past 20 years I have gone downhill skiing only once a year, and yet I am able to traverse the steeper slopes with some style and ease.

With the encouragement of a friend, and without speaking with any MGHA member, I responded to a longing deep within me, and I made the bold move of publicly posting my name on the player roster and my photo on the website. Then the amazing adventure began, learning to skate, learning to play a team sport, and learning to play a contact sport. When 10 minutes into the first formal practice we were told to skate out to the blue line, stick in hand, and throw ourselves face-down on the ice, I realized that the adventure had only begun.

For the first time in my life I found unlimited support and encouragement all along the way in learning a sport, in learning the basics of skating and in learning the rudiments of the game. In the process I became part of an extraordinary community. It's a community of talented people which together celebrates the experience of each of us doing more than we ever thought we could do. Perhaps the most powerful moment of every game and every practice is when I put on my gear. In that process I realize that I am doing something that was a part of my deepest longings--so deeply buried that I was not consciously aware of them--and that when I began seemed so far out of reach, that it was beyond my imagination. In participating in the MGHA I have learned to live my life larger than I dreamed it could be. I can hardly believe that this is the beginning of my twelth season with the MGHA. The experience has impressed into my being that when we play with passion, with enthusiasm, with joy, with love, with respect, with integrity, to the best of our ability;regardless of the scoreboard;we win the game. So it can be off the ice as well.