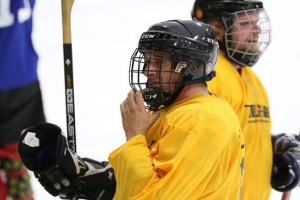 Current Team

2019 White – Competitive, Nightfuries Team Captain

Hometown

Madison, WI

Pronouns

She / her / hers

Other Teams

Madison Patriots: pee wee - Midget "A"
Coaching: Madison Patriots High School "C" and Pee Wee C.

Roles

MGHA Member Hockey Ops Mentor
Hi, I am Ashleigh . I started playing pond hockey around 7 years old. Organized hockey around 10 until 18. I've played some open hockey since 18, but none over the past 10 years. After coming home from the army. I coached for roughly 6 years. Beginning with a club high school team, and ending with pee wee hockey. After pretending to be who I wasn't for most of my life I got out of shape and moved away from hockey. When I walked away my last significant memory was accepting a Runner Up trophy in the State Tournament. I think it summed up where I was at that time. Lets fast forward 25 years. I am entering my 2nd season in MGHA. I love playing here the people are amazing. I have reignited my passion for this game. I've met wonderful people, and had a ton of fun in first season. The dream for me was always to spend my life playing, and or coaching. It is looking like I get to do that. I am grateful for that.



Madison Gay Hockey Association
MGHA Classic Tournament