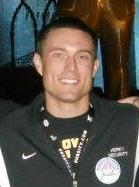 Current Team

Arrrnge, 2019 Black – Competitive Team Captain

Hometown

Malvern, IA

Pronouns

he/him/his

Other Teams

I don't play on any other hockey teams, but I do play gay softball and volleyball. Chat me up if you're interested in playing!

Roles

MGHA Member Mentor
I had never skated before joining the MGHA. Now, I can even stop! I love everything this league has given me from the opportunity to play hockey to the tight-knit community of people like me. This is how we do it. I don't think your ready for this jelly.



Madison Gay Hockey Association