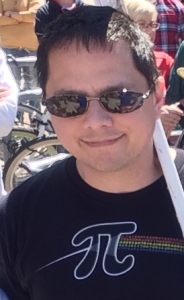 Hometown

Fitchburg

Pronouns

He/him/his

Other Teams

Current: Vet Sci @ Shell on Fridays, helping coach my kid's West Madison Polar Caps team (and Verona in the summer).
First played on a team in '93, and it was all about winning. Hated it, almost sold my equipment and gave up on the hockey experiment. Thankfully, returned to fun hockey in Madison.

Roles

Board Member MGHA Member Recruiting
First put on skates as part of the UW Computer Science department's group in '90, have been a hockey guy ever since.

As the years went on skating became harder, so I put on the pads so falling down (my natural reaction to ice) looks like I'm making a play.

Have 3 kids, so there's the priority that can trump hockey, but we try to keep Sundays open for MGHA.

First year team = Redrum, referencing The Shining by Stephen King. Jersey = Cujo, not because I'm a rabid pupper, it's the nickname for former Badger goalie Curtis Joseph.

Addendum 1: second year, on the Nightfuries. Jersey = Hiccup, as I'm more the little nerd kid than a dragon.

Addendum 2: third season, citizen of The Shrek Republic, jersey = "An Old Frog". We would have won it all if it weren't for the stooooopid plague.

Addendum 2.5: Goalie for MGHA vs Team Trans in friendship series. Well, that was awesome, when can we do that again?

Addendum 3: fourth season, Red Flags. Jersey = All Dadjokes, because well, immaturity. But I amuse myself.

Addendum 3.5: Rainbow Dash (lt blue) in the Classic tourney. Made it to the championship, but alas...



Madison Gay Hockey Association
MGHA Classic Tournament