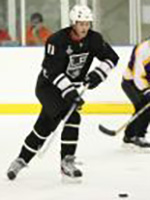 Hometown

Sun Prairie

Roles

MGHA Member Announcer
I have been lucky enough to play hockey since 1993. Due to injury and some other health issues I had to stop in 2002. I was able to start playing again in October of 2008, and have been going since. I am very excited about being part of the MGHA and I look forward to learning more from the players in the league, and maybe being able to teach other some of what I know. See you on the ice!

11/7/09 - I wanted to add something to my profile in regards to my nick name "Gretz". When I first started playing hockey I was a goalie. I had always wanted to be one, so my first season I was. I was a HORRIBLE goaltender. I got the nickname because I scored ALOT of goals on MYSELF. So many points that my team started calling me "Gretz" since I scored alot of goals. After one season, my team had me change from goalie to forward and the nickname never went away. I didn't get the name because I think that I am the great one or anything, I got it because I was the opposite. So I put that name up because it has been there since I started playing. Just wanted to mention that story. One must admit, its kinda funny. Good luck everyone!