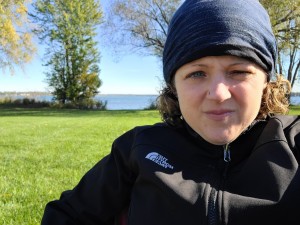 Current Team

Rubber Puckies Team Captain

Hometown

Madison, WI for over 20 years. Born in Zanesville, OH and high school in Brookfield, WI

Pronouns

she/her/hers

Other Teams

None currently

Role
I am a cis lesbian and long term member of the MGHA. I never grew up playing sports - just was not something my family did or encouraged. So it surprised me in adulthood when I was introduced to hockey and skiing and fell in love with both. I started playing in a scrimmage league in vet school in 2002 (ish?). My first formal hockey experience was in 2008 - I played with the MGHA for 2 years and for Madison Freeze Green and then for the UW-C team. After a baby-making hiatus, I returned to MGHA in 2014 and have played ever since. I love hockey, the MGHA community, and the experiences that come with - I have met some great friends in this league. Outside of hockey, I small animal veterinary surgeon working at the UW School of Vet Med. I live on the northeast side of Madison with my 3 children - Maggie, Ty, and Noah. I love exploring the outdoors, working on projects in my house or yard, and started pilates about a year ago since I can't really run anymore.