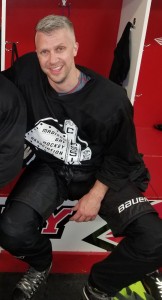 Current Team

The Red Flags Team Captain

Hometown

Monroe, WI

Pronouns

he/him/his

Roles
I played hockey growing up, from 1st grade through 12th. Throughout college, grad school, and now "being an adult," I never played but was always wondered if I'd still enjoy it. About 4 years ago, I played in a local "men's league," a couple of times and it was just "ok." After coming out a few years ago, I was introduced to the MGHA, made a few friends, and attended some events and games. I never could get myself to "take the plunge" and join the league.

This past April, my friend "talked me in to playing" in the MGHA Classic Tournament. I was blown away by how much fun I had! I met a lot of great people and realized MGHA is truly a tight hockey family of really cool people. This (and some encouragement from Justin) is why I took the leap and officially signed up for the 2019-2020 season. I'm looking forward to being part of the MGHA family!



Madison Gay Hockey Association