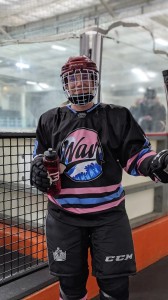 Current Team

Hometown

Detroit

Pronouns

They/them or he/him

Other Teams

(Nashville based)
Violent Femz
Your Mom
Currently in Nashville, from Detroit, planning on moving out West before 2023! Been skating on ice since 2016, grew up playing street and roller.

Off the ice, I'm a Product Manager in tech and enjoy most everything outdoors from camping, kayaking, hiking, and (more recently) fishing. My favorite thing to do, though, is watch horror movies with my partner.

Super excited to participate in my first Classic!