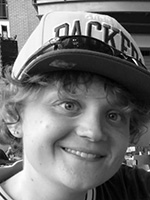 Hometown

Montello

Pronouns

she/her/hers
This is my first year ever playing hockey. Sure, I dabbled in floor hockey in high school, but that's just not quite the same. I was introduced to hockey through the Badgerland Softball league, which I've been a part of for two years. This fall, I'll also be a part of the Badgerland Flag Football League. Besides my own sports, I'm a huge fan of baseball and football. I'm a diehard Packers fan, Yankees fan and Badgers fan.

Outside of sports, I am a 6th/7th grade Social Studies teacher at Wright Middle School in MMSD. I also lead clubs through MSCR for our students (ask me about them and I'll tell you all about it).

I live with my wife in Cross Plains. We have two cats and a bearded dragon. We enjoy traveling and being out in nature.