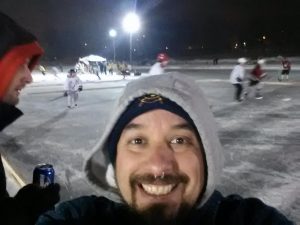 This is my first year playing hockey, and it is a dream come true. Joining the MGHA impacted me in many great ways, but the real extent of it did not dawn on me until recently.
I had always wanted to play hockey. I started watching the CU Buffaloes play while attending University of Colorado – Boulder in the late '80s. I liked the game a lot. So much so that I started to go to the student rec center and watch the recreational leagues play as well. I loved the fast pace of the game, the strategy, the intensity, and skating and stick skill needed. I admired those who played and the passion they put into the game. I loved that I never once saw a hockey player who was lukewarm about the sport, and this inspired me.
I had always wanted to be involved in sports but never took the step because of my experiences in school. There was a group of jocks at my junior high school who were aggressive, arrogant, intimidating, mean-spirited. They bullied me, made fun of me, hit me, and threw snowballs with rocks in them at me, and I was always scared of them. I never fought back because I knew they would just gang up on me even more. To their credit, I did learn how to run fast. In high school it was the same, so I tried my best to stay under the radar and just get through it.
After coming out, I gained confidence and found groups outside of school to support me. I was more comfortable, but the dream of sports never materialized. Underneath, I still felt unworthy, weak, and intimidated. I graduated and moved on to college. In college, I fell in love with hockey, and I secretly longed to play but had so many misgivings. I was afraid I would break a finger, which would be disastrous to my many years of guitar study. I was suffering from asthma and thought that the game would be too much to handle. I was too skinny and thought that the other players would snap me in two. I was homosexual and wouldn't be able to stand up to the judgment. The excuses were symptoms of being bullied all those years. Sadly, my friends agreed with my reasons not to play—but I still dreamed. Eventually I finished college and went on to build my life.
Years later, fully involved in my career path of healing and counseling, I was reintroduced to hockey in a most unexpected manner. On September 11, 2001, I was in New York to attend a children's peace conference at the United Nations. The next morning, the towers went down. Our group ended up volunteering with the Red Cross to counsel victims of this terrible event. One person I met while volunteering was a NY Gay Hockey League member. I was truly surprised to hear that such a thing existed. A seed was planted.
Later that year, I returned to New York to visit people that I had counseled from 9-11. While there, I decided to visit the gay hockey league and watch a game. The website said that visitors were welcome with an invitation to meet the players after the game. I practically ran to Sky Rink. I was so excited and blown away watching gay hockey. I met some of the players and Jeff Kagan, the founder of the league. Everyone was friendly and welcoming. I left New York thinking how unfortunate it was that there wasn't a league close to where I lived, but seeing NYGHA in action made it seem possible.
Years later, I had become aware of MGHA and was very excited. I started thinking about joining, but there were many reasons why I couldn't. Work, travel, school, age, etc. I eventually realized that the real reason I didn't join was because I was still intimidated. I finally decided that I HAD to go for it and finally face these old issues.
I joined MGHA, got in after the season had started. My first day was at a game. Despite my terror, I was thrilled beyond words to be on the ice playing hockey after some 20 years of dreaming about it. Everyone was so friendly and supportive; I cannot express what that day meant to me. Since then, I have had only wonderful experiences. The experience has been healing and uplifting and I am truly grateful for how positively it has affected me. But it is only recently that I realized how much so.
In February,I played in the Madison Pond Hockey Championships. I was nervous because this would be the first time playing against non-MGHA people, so that "safety net" wouldn't be there. The games went well—I had fun, played hard, and did my best. I felt proud of the progress I had made over the season. Later, I had a realization. Not ONCE during the tournament did I feel intimidated, judged, or bullied. Those old, doubting thoughts about size, skill, speed, gender, and sexuality had not surfaced once the entire weekend! I had been walking around meeting people, sharing stories, cheering teams on, playing. I remembered how the old me would have felt at this gathering, and how I would have treated the "straight" people there like they were the old bullies that used to torment me. None of this happened.
Upon realizing this, I went outside and looked around. Games were happening, there was a light snow falling, rocking music, the smell of beer, and friendly chatter…and me there, a part of it all. I thought to myself, "This is a perfect, beautiful moment. I made it at last." I got a lump in my throat and tears welled up in my eyes, and I felt immense gratitude flowing through me. It wasn't that I was just doing the best that I could; somewhere along the way, during this hockey season, my past demons had simply disappeared and what I was now sharing with my MGHA teammates and all those other players was simply the LOVE OF THE GAME. That is what I have dreamed of for so long.
The MGHA is an amazing example of what is important and necessary about having a healthy, supportive gay community. People are given the chance to work through fears, issues, and pain,and are given the chance to be beginners without feeling pressured to perform. The result is that people are able to find confidence, self-esteem, inner strength, artistry, and passion. This, in turn, allows them to share that good energy and wellbeing with the people in their lives. Playing hockey with the MGHA is a dream come true for me. It's the awakening from an old scary dream, a chance to make friends, and outlet to blow off steam and have fun. I cannot put into words the positive impact this organization and its members have had on me. I cannot put into words how much I love this game.